The adapted booking software for restaurants
Reservit has designed a booking software to allow your customer to reserve one of your tables online and to offer take-away sales. You manage the reservation in real time and wich complete autonomy.
The booking software for restaurants is also adapted to mobile devices and tablets for more visibility. Our technical and commercial team adapts to your graphic charter, totally intuitive for your future customer.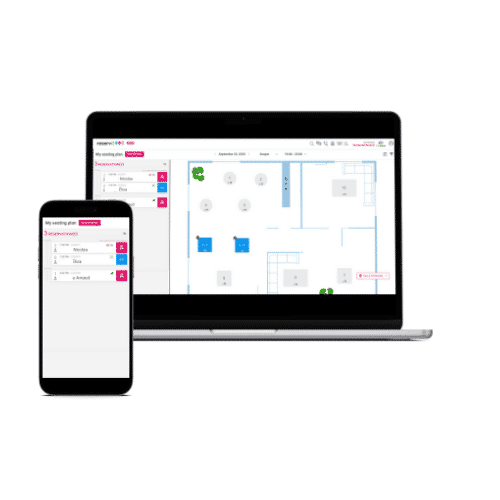 Table management system
With Reservit, centralize your direct bookings and manage your seating plan with ease.
Our TMS is a forecasting tool that allows you to save time in your daily tasks and increase your revenue by maximizing the number of reservations.
What the Reservit TMS includes:
A reservation book where you can find all the details of your direct reservations.
A custom table plan according to the layout of your restaurant. You can thus assign your reservations to available tables with a few clicks.

Reservation 24 hours a day - 7 days a week

Table(s) or place setting management

Online manager

Adapted to all screens

Instant confirmation (email and/or text)

Based on availability

Online payment

Additional option(s)

Customer database

Connect to accommodations

Take-out orders

Gift cards and certificates


Offer your tables online, directly and independently !
Half of our 10 000 customers are both hotels and restaurants, so Reservit Restaurant is the optimum booking software for restaurants for a complete management. The reservation interface is integrated to the website of your restaurant and is ergonomic. It is accessible from any computer connected to the internet.
The "Reservit Restaurants" technology is based on its expertise in the field of online reservations and connectivity, with the ability to open the solution to business software (TMS).
Your booking software will cost you a single fixed fee per subscription, with no commission on the activity generated.
On the other hand, each establishment is the exclusive owner of the customer file of its Internet site, wich makes it possible to use it to promote your restaurant.

For the restaurant manager
1. Management of services and schedules offered to Internet users
2. Management of tables offered for sale on the Internet
3. Management of access codes and associated user access rights
4. Graphic customization of the engine for integration into the establishment's website
5. Management screens in the form of graphically worked reservation calendars, for optimal comfort

For the cutomer
1. Real-time booking
2. Dynamic booking screens
3. Reservation available in 6 languages
4. Confirmation email in HTML format and/or text message
5. Book through Google

Monitor activity
1. Reservation management and history consultation screen
2. Display of the schedule of tables put on sale according to different filters
3. Extraction of the reservation file for activity studies
4. Extraction of the customer file for management of communication campaigns